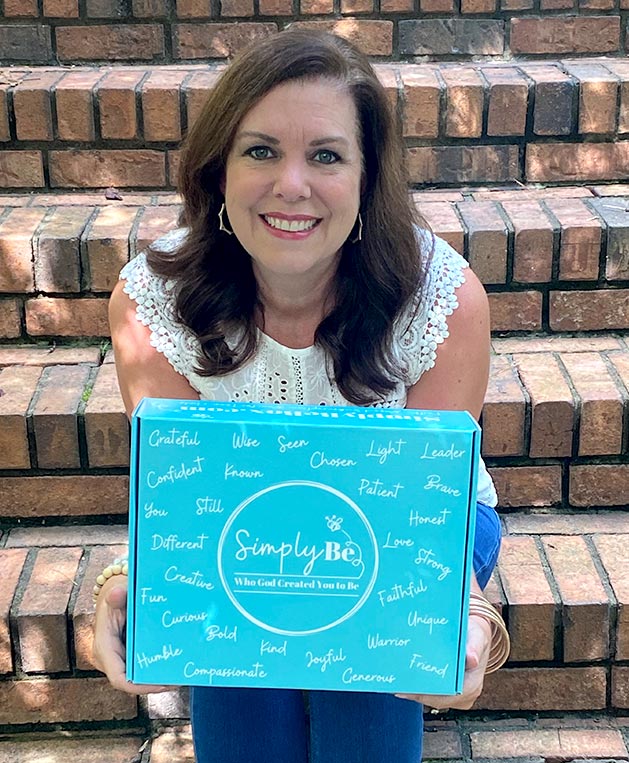 Hi! I'm Ellen Cooper
Founder of Simply Be Box & I'm so glad you're here!
I'm the mom of two teenage daughters, so I have a front row seat to the joys and struggles of girls these days. I am passionate about coming along side to encourage them, laugh with them and help them grow in their relationship with Jesus. I get to do that not only with my own girls but in my community through leading a small group & teaching bible study. The idea for Simply Be Box came from a desire to bring something fun and positive into the lives of teen girls and seeing an opportunity to do that within the subscription box market. While the box full of goodies may get their attention, I really want to reach their heart, help them know how much they are loved by God and that with Him anything is possible. It's not just a box, but a community! We want to educate, encourage & engage teen girls to Love Jesus, Love Others & Love Themselves well. So glad you're a part of it & thanks for trusting me!
Our mission at Simply Be Box is to share the Gospel & encourage teen girls to Simply Be who God created them to be by meeting them where they are through a subscription box, podcast, events, and an online community.
We believe Simply Be Box is a fun & effective way to disciple the next generation! A gift Girls will LOVE & Moms can TRUST!
More about Ellen
Ellen has over 20 years of leadership experience in business, nonprofit and ministry. She graduated from the University of Mississippi with a degree in Fashion Merchandising & Business and went on to work for 15 years in the retail and consumer goods industry in various sales, marketing, and management roles, the longest being 11 years with Newell Brands, Calphalon Division. Leaving to spend more time with her family in 2013 gave Ellen time to reevaluate her priorities and see more clearly what was coming next. In that time, God called her to seminary at age 40 which turned out to be completely transforming. Ellen earned a Master of Arts in Christian Leadership from Dallas Theological Seminary in 2019. Most recently, she worked with a local Atlanta nonprofit called Kidz2Leaders as the Community Relations Manager. She is very active in her community and loves leading a bible study and small group for middle school girls each week. Ellen & her husband James have been married for over 18 years and they, along with their two daughters, live outside Atlanta.
We Believe In
The Trinity
The Full Deity and Humanity of Christ
The Spiritual Lostness of the Human Race
The Substitutionary Atonement and Bodily Resurrection of Christ
Salvation by Grace Alone through Faith Alone in Christ Alone
The Physical Return of Christ
The Authority and Inerrancy of Scripture
Apostles Creed
I believe in God, the Father almighty, creator of heaven and earth. I believe in Jesus Christ, God's only Son, our Lord, who was conceived by the Holy Spirit, born of the Virgin Mary, suffered under Pontius Pilate, was crucified, died, and was buried; he descended to the dead. On the third day he rose again; he ascended into heaven, he is seated at the right hand of the Father, and he will come to judge the living and the dead. I believe in the Holy Spirit, the holy catholic Church, the communion of saints, the forgiveness of sins, the resurrection of the body, and the life everlasting. Amen.